A subtle and intimidating line crosses through the concept of windshield replacement (or any automobile repair). Ultimately, consumers want to get the best bang for their buck. On the other hand, consumers also want the highest quality work on their automobiles. Driving does require a high level of safety, after all. There is a seesaw between finding a cheap windshield replacement and finding quality work. It's a delicate balance and can be hard to navigate. An expensive and quality windshield hurts your wallet. A cheap windshield could harm your vehicle.
Where's the middle?
How does one find a cheap windshield replacement and keep the ease of quality? How do you go about the windshield repair process without being tricked or twisted by salesmen?
Let's get into it.
Do You Need a Replacement or Repair?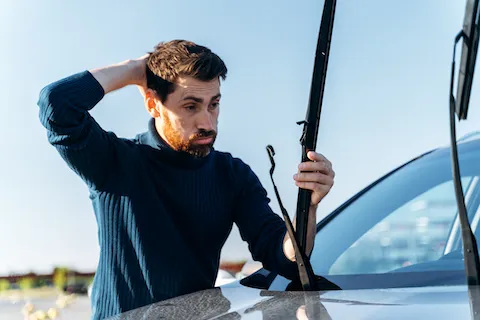 Windshield work can be tricky to identify. There are intricacies to glass. Even the most sturdy-looking pane can be easily damaged. Glass is a fickle thing (ask all the cups I've dropped). Even though windshields are created with advanced technology based on integrity, they can still find themselves damaged beyond repair.
This sentiment is only doubled down when living in Denver or its surrounding areas. Falling rocks, drastic weather changes and ice can prove to be detrimental to auto glass longevity.
Ultimately, this is all a long-winded way to say that the extent of auto glass damage can be hard to determine. For example, a windshield with a night vision sensor can be damaged beyond working integrity by a simple chip in the wrong spot. On the other hand, an infrared windshield may find itself in the repair category with a fairly large crack.
The first aspect of finding a cheap windshield replacement or service is to identify (or at least draw a well-thought theory) what work needs to be done. Do you need a replacement or a repair?
What's the Difference?
It's as simple as it sounds.
A windshield replacement requires putting on an entirely new windshield. The damage is beyond repair by normal means.
A windshield repair involves injecting a clear resin into the outer layer of glass, restoring integrity, and filling in cracks and nicks.
Obviously, a repair is much less expensive and time-consuming than a full replacement. If you are going the route of searching for a cheap windshield replacement, a repair may be your best hope.
Is It Legal?
Overall, there are no specific laws in the state of Colorado saying that it's illegal to drive with a cracked or damaged windshield. Consequently, there is an adjacent law.
Colorado Revised Statute Section 42-4-227 prohibits driving a motor vehicle with obstructed windows. Furthermore, law C.R.S. 42-4-201 prohibits driving with windshields tinted darker than 27% and broken windshield wipers.
Henceforth, if you have a crack large enough to obstruct your driving view, it's considered illegal. Food for thought.
1. Do You Have a Special Windshield?
Let's swing back to the night vision windshield example. This unequivocally cool feature uses an infrared sensor on the front of the vehicle. Through heat detection, the sensor can display surrounding objects on the car's dashboard. This increased sensory allows drivers to see animals and vehicles in front of them clearly, regardless of the surrounding light condition.
The night vision relies entirely on the sensor located within the windshield. If this sensor is damaged, the feature may not work. Therefore, a full replacement would be necessary to restore the feature.
Long story short, it's important to identify any special windshield features you have before going for a quote.
Examples of special windshields include:
Lane Assist (Lane Departure Warning)
Heated Windshield
Rain Sensor
Condensation Sensor
Light Sensor
Night Vision
Heads-up Display
Infrared
Forward Collision Alert
2. How Large Is the Damaged Area?
The key factor in determining a windshield's repair extent is the size of the damaged area. Once again, it is still on a case-by-case basis, but there are a few rules of thumb.
If you have a chip the size of a quarter or a break approximately three inches long, the glass can almost always be fixed by a resin injection. If it is any longer than that, your probability of a full replacement increase drastically. When a smaller crack continues to grow at an alarming rate, you are on your way to a full replacement.
Once again, it all depends. The quicker you get the problem addressed, the higher your chances are for a quick repair.
3. Where Is the Damage?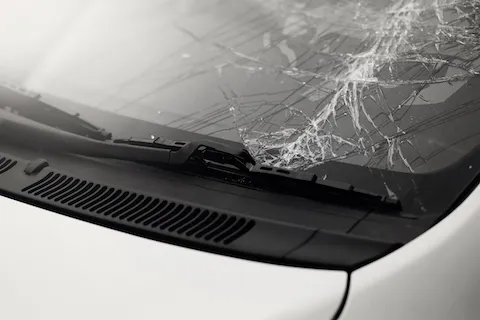 The location of the damage is another element that may what kind of work you need. Cracks and chips at the border of the glass might jeopardize the structural integrity of the vehicle since they tend to spread fast. While you may still be able to repair them if they are discovered in time, in most situations, replacement is the best option.
The integrity of your auto glass is crucial for your car's safety. The windshield acts to hold the structure of the vehicle. A windshield offers 45% of the structural integrity in a head-on collision and 60% in a rollover accident. Therefore, if the very edge of your windshield is damaged, it's more concerning than other areas. Larger cracks in the center may appear more intimidating, but that doesn't mean they are more dangerous.
A large crack on the edge of your windshield may require a full replacement.
4. Judgement Is Usually Right
At the end of the day, we can wax knowledgable about windshield requirements, but it's fairly easy to tell the damage extent by the naked eye.
How bad does your damage look? Is it obscuring your driving vision?
Most times, your gut reaction should be able to determine if a repair or replacement is necessary.
Do Not Try to Replace Your Windshield at Home
If you are looking for a cheap windshield replacement, you may be tempted to do it in your garage. We all have a friend that can fix it. Right?
Not so fast, MacGyver.
Installing a windshield is an integral process. A windshield does more than just brave the elements. It also keeps your roof from caving in and keeps your airbags working correctly. Therefore, your windshield must be installed correctly and professionally. While incorrectly installing another part of your vehicle may just end in mechanical issues, a wrongly-installed windshield can put you in danger.
Your safety is not worth less than getting your car fixed by a professional; this goes for auto glass, as well. Windshields should meet or exceed OEM standards and be installed with proficiency.
Now Becomes the Matter of Price
Now you've taken the time to overlook your situation. Even if you cannot determine the intensity of your damage, there is still a crack or chip. It's better to get the problem addressed quickly, helping stave off higher prices.
Where do you go from here? How do you go about finding a cheap windshield replacement?
Let's start from the top.
Average Cost of a Windshield Replacement and Repair
As noted, resin repairs remain amongst the cheapest options for windshield repair. They average around $65 for a crack fix. The overall price depends on the number of cracks, location of damage and damage length.
Shameless self-promotion: SLP Auto Glass currently offers $50 chip repairs!
As far as full replacement goes, it truly depends. Do you have a luxury vehicle? Do you have a windshield with a special feature? How old is your vehicle?
On average, a windshield replacement will cost you between $200-$400. If you need a free quote, we can provide one ASAP. Contact us here!
The difference in average prices for repairs and replacements is drastic (as you can see). Therefore, it's financially crucial to get a crack fixed when it's within the repair range.
Will My Insurance Cover It?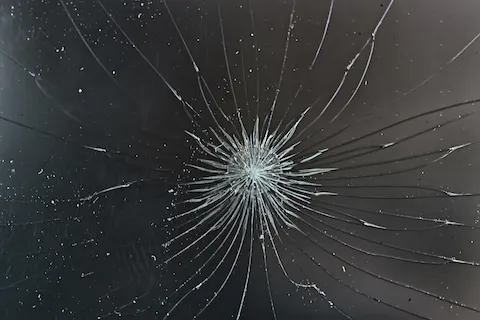 It may seem as if we are continuing to use the blanket statement of 'it depends' for each question, but it truly does depend. Unfortunately, there is no hard and fast rule for insurance coverage on windshields. It depends on your policy and the reason for windshield damage.
We broke down the entire subject here. But we will break it down quickly. Once again, this is an average interpretation. There are a plethora of different policies and insurance structures available.
Of the three major insurance policies (Liability, Collision and Comprehensive), comprehensive will be the only type to cover all windshield damages.
Collision insurance will cover windshield damage if the damage is caused by an automobile accident. Furthermore, collision coverage can involve a deductible. With this, insurance agencies are not required to pay for repairs unless the costs reach a certain point. For example, if your deductible is $500, your windshield repair would need to exceed that amount to be paid. Unfortunately, the average windshield replacement does not stretch past that price point. Therefore, even if a small chip was caused in an accident, it probably won't be covered.
Comprehensive coverage often covers all windshield damage, even if it's caused by debris or vandalism (though it may also have a deductible).
Overall, if you have any insurance higher than Liability, you should contact them before going for a windshield replacement.
SLP Auto Glass Will Contact Your Insurance for You!

As windshield experts, we have a plethora of experience dealing with insurance companies. Therefore, we will file your insurance claims for you. We understand that it can be an arduous process to navigate. We are here to help.
Will Claiming Windshield Damage Raise Insurance Rates?
Quick answer: no. It's the events that surround windshield damage that could raise your rates.
Overall, claiming comprehensive coverage on your auto glass does not affect your insurance rates. After all, rocks or thieves damaging your windshield do not reflect on you as a driver and client.
On the other hand, if your windshield damage was caused by an accident that you are responsible for, your insurance rates may rise. Unfortunately, that's just the way insurance works. You caused an accident. Therefore, you are seen as more of a financial liability to insurance companies.
Whether you decide to claim your windshield damage is entirely up to you, but if you pay for comprehensive coverage, there is no reason to avoid taking advantage of it.
How to Know a Cheap Windshield Replacement Is Quality
Ultimately, it can be impossible to determine the true quality of a product or service based on a website. Even the most prolific of websites can lead to a business with a less-than-abysmal service record.
If you decide to price out local auto glass mechanics to find the best deal, you may start to question the overall quality. Often we are taught that the cheapest option is the lowest grade. Sometimes this is true.
Henceforth, keep a strong eye out for reviews of the company. Don't necessarily take reviews on their website as gold. They are likely to only show positive ones. Check reviews on Google and sites like Yelp to see realistic impressions.
Always trust your gut. If you have a weird feeling about the garage, or the salesperson seems to be upselling you on services, you are better off looking elsewhere. Don't let the cheapest option turn into a mistake. Keep your wits about you.
Also, keep an ear out for the free quote. The mechanic should give you a knowledgeable explanation and a reasonable price. Don't be afraid to ask them questions. They should be experts, after all.
Always Keep an Eye Out for Standards!
A windshield technician and shop should be using Original Equipment Manufacturer (OEM) glass directly from the manufacturer. If their website does not mention using OEM-certified materials, an eyebrow should be raised. Feel free to ask them if they do. It's a crucial aspect of a quality repair.
Are Auto Glass Companies the Only Option for Repairs?
If you Google the nearest (or best) windshield repair, you will be struck with an array of companies sporting Auto Glass or Windshield in their title. For example, SLP Auto Glass is right in the title. Most often, these places only focus on auto glass repair and replacements. They are not full-service mechanics.
Are auto glass companies the only technicians that do windshield repairs?
No! In fact, a lot of full-service mechanics can do auto glass repairs. The difference is that of specialty. While a mechanic may be able to do a plethora of tasks and services, you never know how good they are at one specific thing. With auto glass companies, our technicians are certified and experts in that specific sector.
Will a Cheap Windshield Replacement Take Longer?
It shouldn't!
At SLP Auto Glass, we look to get your car done within an hour of bringing it in. We also offer mobile services. We can come right to you! You don't even have to leave your home or office.
What Will Happen With a Bad Repair?
Proper installation of your vehicle's windshield is critical to the vehicle's safety systems operating properly. The best method to assure a proper installation is to work with a respected car glass service specialist that utilizes high-quality materials, delivers reliable service, and has a good reputation. Ensure that the firm you choose gives extensive training to all of its staff.
Overall, windshield installation and replacement is a sensitive process that should be done by qualified professionals. Poor technicians frequently make little errors that might escalate into major ones, particularly in the case of an accident. These errors may include failing to adequately clean the new windshield and application area of the car before installation or substituting butyl tape for urethane as the bonding agent.
What About SLP Auto Glass?
Time for more self-promotion!
At SLP Auto Glass, we are committed to excellence in everything we do. We are passionate about ensuring that your vehicle is in a much safer state with a new windshield designed and installed with safety in mind.
As a full-service and locally-owned auto glass company, we care about our friends and neighbors. You can count on us for fast, efficient, reliable and affordable auto glass services that are customized to meet and exceed your needs.
Reach out to us! We can give you a free quote ASAP.