Land Rover Windshield Replacement and Repair

SLP provides professional auto glass and windshield replacement services for Land Rover.
SLP Auto Glass offers the best auto glass replacement service in the Denver area.
From chips to scratches, we can fix any issue regarding your vehicle's auto glass.
Furthermore, we stand by our excellence in customer service and convenience.
---
SLP Windshield Replacement Is Here for Your Auto Glass Needs
Have a Land Rover? Have a Land Rover with a nasty chip dinged out of your windshield? Need a fix ASAP?
At SLP Auto Glass, we bring efficiency and quality to the auto glass industry. If you are a Denverite (or live in the surrounding areas), we look to provide excellent customer service and ease during your troubling times. Or at least the troubling times for your windshield.
Need a windshield replacement or repair? Need any other work involving auto glass? We can handle it ASAP. In fact, we also provide mobile services.
Auto glass experts with many years of experience.
We use only the highest quality materials.
Highly-trained, experienced and certified specialists.
Approved by all major insurance companies.
Mobile service – we can come to your location.
You will receive a lifetime guarantee on labor.

Types of Vehicles We Service:
Personal Vehicles (Cars, Trucks, SUVs, Everything In Between)
Classic Vehicles
Recreational Vehicles
Commercial Vehicles
Fleet Vehicles
Semi-Trucks
Heavy Equipment Vehicles
And Much More!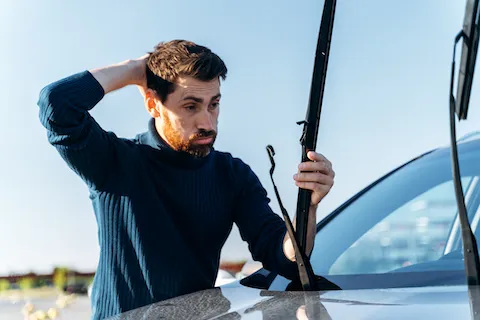 Land Rover Auto Glass Service in Lakewood, CO
Do we need to tell you how important auto glass is? Probably not, but there are a few things we need to note.
Firstly, the quicker you get your auto glass fixed, the cheaper the repair may be. Small cracks can be fixed with resin. Larger cracks may require a full windshield replacement. If you notice a small blemish, get it looked at before it spreads.
Secondly, your windshield doesn't only protect your driving vision, it also upholds your vehicle's exterior integrity. Don't play with your safety by having a damaged windshield.
Fun Fact About Land Rover!
When you think of monster trucks, do Land Rovers come to mind?
No. Probably not.
Believe it or not, Land Rover created the first monster truck in the 1950s. The British Forestry Commission reached out to Land Rover to create a vehicle to handle mud and harsh conditions. The manufacturer threw together vehicles with tractor tires and intricate axles.
This was around 30 years before monster trucks became a mainstay of your Sunday, Sunday, Sunday.
Contact us today with any questions.
We can provide a quote for your repair needs ASAP.