Service Options and Types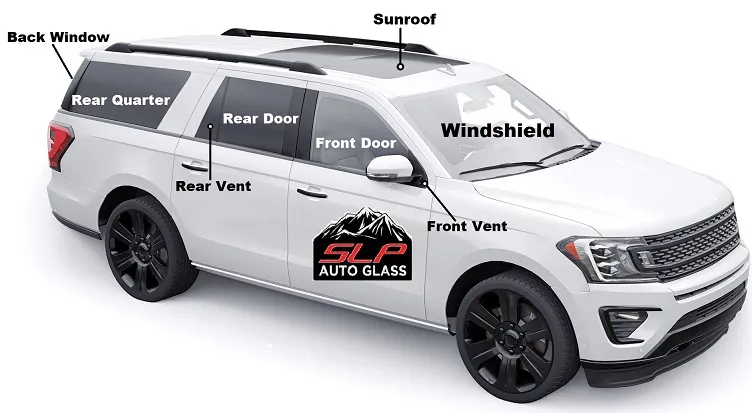 You may have seen the image shown above. Basically, it's a quick outline of all the different auto glass locations on your vehicle.
These are the service options we provide.
When selecting your needed service for a quote, these are the areas we are referring to.
If you are still not 100% on which area is what, here is some more information!

Still have questions? Contact us! Our customer service representatives are here to help.
---
When it comes to minor windshield repairs, even something that seems simple, you want to trust a professional for the job.
Whether your windshield only has one small chip, or it is riddled with many, you will want to address the problem right away.
Ultimately, a chip or scratch can happen anywhere on your auto glass. From windshields to windows, a crack can strike in all areas. Luckily, chips are easy to repair and don't always require new glass.
More info here!
We all need to see, especially when we are driving.
Your windshield includes the panel of glass at the front of your vehicle. It's what you look through while you're driving (duh). Overall, windshields are pretty tough. But, when a chip or crack strikes, your windshield's integrity can quickly deteriorate. It's crucial to get any cracks or chips fixed ASAP. Small blemishes can be repaired without replacing the windshield. The longer you wait, the more expensive the fix becomes.
The front vent is a piece of auto glass in front of the side view mirrors. While it looks like it could be a part of the window pane, it's actually its own piece of glass. Usually, it is separated from the window pane by the vehicle's door panel. As a small piece of glass, it can be hard to notice any damage. If you see a chip or crack, get it replaced as soon as possible.
Your front door auto glass is the second most popular of our service options. Simply put, it's your driver and passenger windows.
If this glass becomes damaged, it can cause various problems with incoming air, vulnerability to the elements and ear-popping air pressure.
We also work on window motors. If your window will not close, we can fix it!
Rear door auto glass involves the windows in your backseat doors. Ultimately, damage here can cause the same problems as front door glass.
Depending on your vehicle, you may have multiple rear door windows.
We also work on window motors. If your window will not close, we can fix it!
Like the front vent, the rear vent is a piece of glass behind the rear door window. While it may look connected to the rear window, it is often separated by the car's door frame.
This is usually a darkly-tinted piece of glass within the frame of the door.
Like a rear window, the rear quarter auto glass is a light glass behind the rear window. It's often close in size to the rear window, but not located next to a passenger seat. As such, longer cars, SUVs and vans often have large rear quarter windows.
Your back window is essentially the windshield of your rear view. It's the large panel of glass at the direct back of the vehicle. Similar to the windshield, the back window is made of tempered glass. When this pane is damaged, it breaks into small pieces to ensure that pieces do not cause harm to passengers.
Just like windshields, even a small chip can eventually spread into a larger and significant crack. It's important to get it repaired immediately.
The sunroof is the piece of retractable glass at the top of your vehicle. It can also come in moonroof varieties. Ultimately, they are the same. We explained the differences here.
Sunroofs also require a mechanism to move them opened and closed (like windows). We can fix those, too. Having a stuck-open or broken sunroof can wreak havoc on the interior of your car. It's critical to get it fixed!
Contact us today with any questions.
We can provide a quote for your repair needs ASAP.